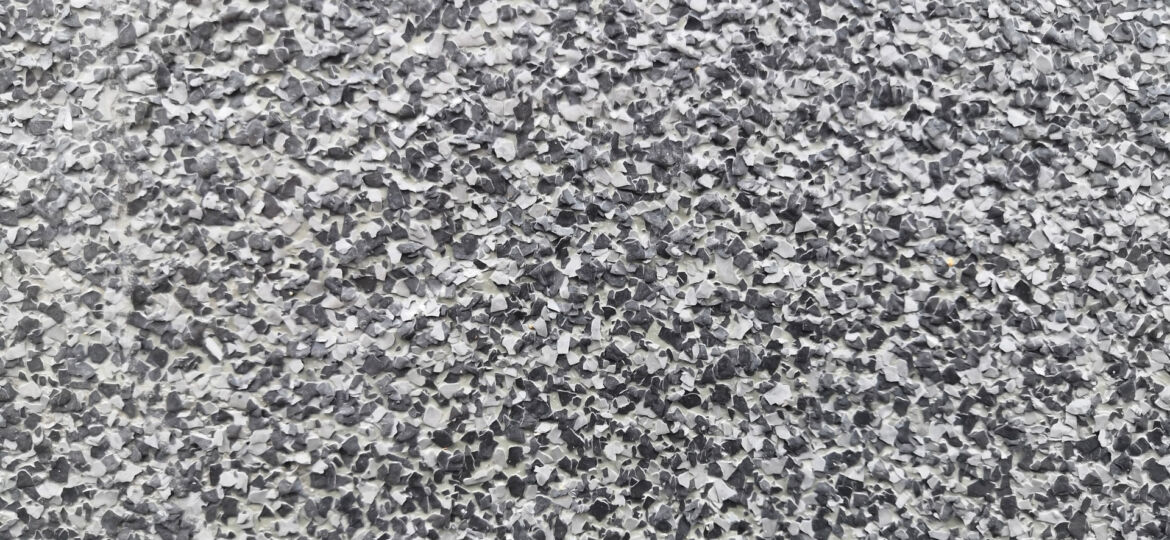 Flakes or Granules?
Getting color and texture on your concrete slab floor is not difficult at all – not when you choose an epoxy coating from West Coast Epoxy. With epoxy flooring, you can add vibrancy and depth with color flakes or granules. Each option provides your floor with added texture, brilliant color, or a combination of the two. But which is best for your concrete floor? Let's go over some details on granules and flakes for your epoxy floor.
Surf's Up with Granules!
Granules are small bits of rock or rock-like fragments that are smaller than a pebble, but larger than a sand grain, roughly round in appearance. We place the granules between the epoxy coating and the protective clear topcoat. The result often simulates natural sandy environments, so many people like placing earth-tone color schemes around their pool and spa areas for a beach-like effect. West Coast Epoxy offers color granules in many other color schemes, so the choice is up to you.
The clear topcoat covers over any microscopic rough edges that might be on individual granules. Even with the protective topcoat keeping the granules from feeling rough, these granules create a non-slip texture for your floor. This makes them a choice option around pools, spas, or other wet environments. If your concrete floor has a sloped area, the non-slip feature makes granules a safety option.
Prefer Color Over Texture?
Your concrete floor might be in an area where a non-slip isn't a priority, and you'd rather wow your friends and visitors with vibrance. Color flakes add layered color to your epoxy floor. Like granules, we place color flakes just under the topcoat. You might be able to feel their texture with bare feet, but the real benefits are the colors themselves. They often add an organic appearance, or the randomized variations of a natural environment.
Color flakes can be arranged in specific patterns to resemble stone, granite, or a mixture of your favorite textures. Perhaps you want something that looks like Lake McDonald from Glacier National Park in Montana, or maybe patterns that provide camouflage for your dalmatian. With color flakes, the result only depends on your imagination.
Need Help Deciding?
Thankfully, West Coast Epoxy can help with your decision on color flakes, granules, or both. Not only do we install epoxy flooring with color granules or flakes, but our years of experience help us to identify the issues that might come into play that can influence your decision. We offer a free consultation to discuss both your concrete floor and your desired results, and the best way to bring the two together. For more information, please fill out our online form. If you prefer, give our office a call to speak with us about color flakes and granules, and which one is right for you.