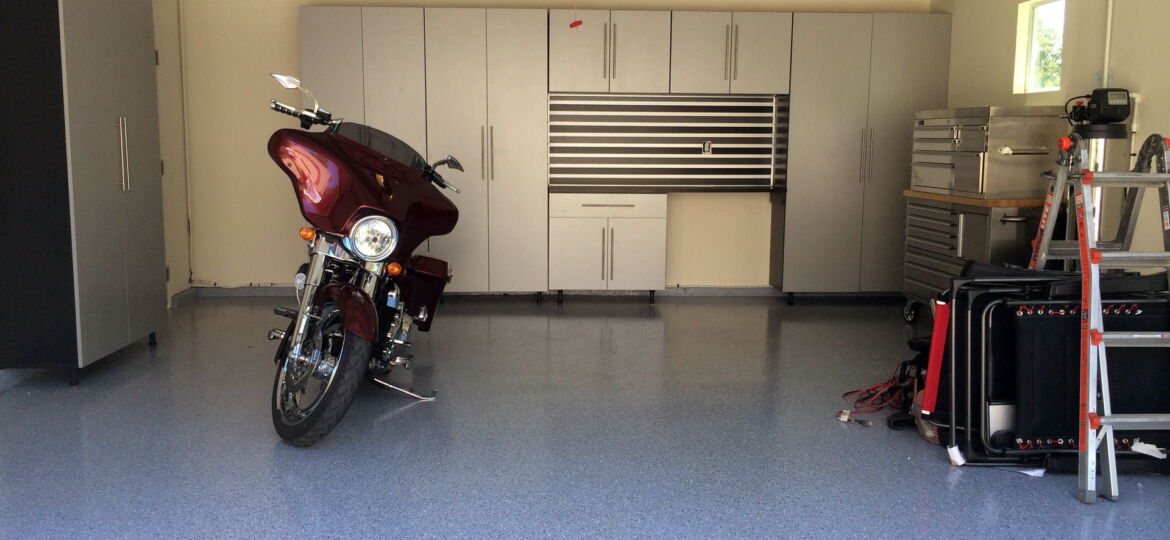 The Perfect Time for a Garage Floor Makeover
At some point, homeowners start thinking about reorganizing their garage. Some people end up doing their garage "spring cleaning" in the summer, when it's time to break out the sporting equipment or camping gear. As you sort through your belongings and decide what to keep, donate, or discard, take a moment to examine your garage floor. Does it have cracks, fractures, or a dull, drab gray color? Shouldn't your garage floor complement your freshly cleaned home? West Coast Epoxy can help you achieve that with our epoxy coating services in Folsom.
As you go through your garage and pull the contents out for reorganizing, it's the ideal opportunity to upgrade your garage floor. West Coast Epoxy's team of experts can help you select the perfect design from our vast array of colors, patterns, and other enhancements for garage floors. Our epoxy coatings offer a seamless, durable, stain-resistant, and protective layer for your concrete, transforming it into a visually appealing space.
Garage Benefits from Epoxy Coatings
Epoxy coatings from West Coast Epoxy offer several benefits. Here's just a sample of advantages:
Enhanced aesthetics – an epoxy coating can turn your concrete garage floor into a vibrant, eye-catching surface. It can even inspire you to use your garage for social gatherings or creative projects during the warmer months. You'll find yourself doing your best to keep the clutter away!
Protection and durability – epoxy coatings shield your concrete floor from cracks, stains, and damage, ensuring it lasts for years to come. Epoxy Coatings flawlessly keep engine oils and corrosive materials from harming your concrete, and they make cleanup a lot easier.
Increased home value – a professionally applied epoxy coating adds value to your home, and they appeal to potential buyers if you decide to sell in the future. Realtors often highlight epoxy-coated garage floors as a selling point.
Improved functionality – if you park your vehicles in the garage, an epoxy coating can protect the floor from tire marks and oil leaks. A glossy or mirror finish also makes it easier to inspect the underside of your car, and you can even add parking markers for convenience.
We Transform Your Garage
No matter how you choose to utilize your garage, epoxy coatings improve its appearance and functionality. Now is the perfect time to explore your options. Visit our Gallery pages to see examples of beautifully finished garage floors and get inspired! When you're ready for the next step, we're ready to assist you. Just give us a call or schedule a free consultation with our online form. We'll answer any questions you have and help you make the right choices.